Ultra Gano Supreme Certified
Ganoderma lucidum can provide support for various human health systems including respiratory, circulatory, digestive, endocrine, locomotory brain development and memory enhancement.
Ultra Gano SupremeTM 
Ultra Gano Supreme is a Certified Organic Ganoderma Spore  (Reishi) 
Ganoderma lucidum, also named Lingzhi or Reishi, has been widely used in China for centuries. 
According to Chinese medicine, Ganoderma lucidum can benefit the five key human organs for impairment of the heart, lung, liver, pancreas, and kidney.
Ganoderma lucidum can provide support for various human health systems and problems including: 
respiratory 

circulatory 

digestive 

neural 

endocrine

locomotory

medical, surgical, gynecological, paediatric, and ENT. problems.
All these are so because of its fundamental effect of "supporting the vital essence of the immune system. 
NOTE: It differs from other herbal medicines that are used to promote  the cure of a specific disease, or supplementary nutrients that only address particular body requirements.
Ganoderma lucidum helps regulate entire body mechanism and metabolism to ensure that all organs function properly.
Some specific effects of Ganoderma lucidum on Health are:
Anti-tumor effect                                      

Cancer                                            

Plaque Build-Up

Immune Dysfunction Syndromes         

Alzheimer's disease                     

Contact Dermatitis

Chronic Fatigue Syndrome                     

Debility                                            

Chronic Hepatitis

Insomnia

 

                                                   

Neuroses                                         

General anxiety

High Blood Pressure                                

Inhibit Platelet Aggregation      

Liver failure

Cholesterol                                                  

Asthma                                            

Conjunctivitis
What is Ganoderma Lucidum Spore Powder?
Ganoderma lucidum spore powder is the seeds that are released from the fruit body when the fungus ripens. Biologically, these seeds are called spores.
Powder-like when collected, they are commercially called "Ganoderma Lucidum Spore Powder."
This spore is much more nutritionally potent than the entire body of the mushroom itself.
Ganoderma lucidum spore have very powerful biochemical constituents including:
Polysaccharides 

Triterpenoids

Ganoderma lucidum acid

Organic germanium 

Selenium.

.......and many many more!
Why Ganoderma Lucidum Spores' Shell Wall Need to be Broken?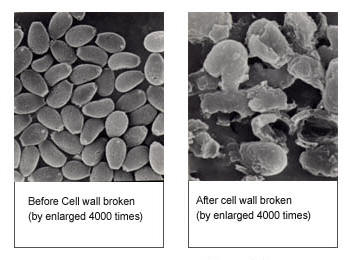 Since Ganoderma lucidum spore has two layers of walls, these walls should be broken to facilitate complete absorption.
The shell wall breakage rate of Gano Supreme Spore powder products reaches over 98% by using the physical method under low temperature with minimum damage to the effective ingredients.
Organic Gano SupremeTM Spore
100% Certified Organic Ganoderma Spore, Fresh, Top Potency 98% Shell-Broken Red Reishi Powder in Vegan Capsules

Premium Quality - When Only the Best Will Do
Our Organic Ganoderma comes from the organic agriculture production system, produced according to the strict requirements that meet the international standards.
Our material and production are approved by the Organic Food Certification Center.
Our Ganoderma is FREE of:
No chemical fertilizer!

No Pesticide!

No Hormone!

No Additives!

No GMOs! is used in the entire process or as ingredients.
Our Gano Supreme Spore  tops all others with:
17.5% higher in polysaccharide 

92% higher in 

crude fat

65.2% higher in Vitamin B1

137% higher in Vitamin B2

33% higher in fatty acids

69.93% higher in Calcium 

76.82% higher in Phosphorus.

The polysaccharide peptide extraction rate is 2.8 times higher

while the total triterpene content of the spores are 6 times higher

it also contains new sterol molecules which could not be found in other ganoderma.
All these will benefit brain development and enhance memory function.
Our Gano Supreme has passed the tests by the relevant authorities.
Organic Gano Supreme Spore  is pure and natural, pollution free, hard metals free, premium quality. 
The Best that Money Can Buy!
Research grade, living and organic, – absolutely no filler and no dead spores.
More Information

| | |
| --- | --- |
| Featured Product | No |